WC302 Automatic Wire & Tubing Cutter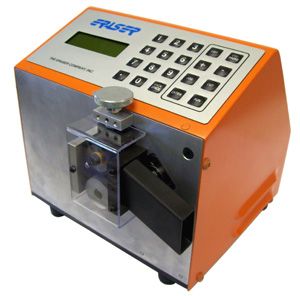 Model
WC302

Part Number
AR7211
Description / Details
Eraser's Model WC302 Automatic Wire & Tubing Cutter is an automatic wire and flexible tubing cutter that easily and accurately cuts wire, tubing, sleevings and more to the programmed length and number of pieces. Nine variable feed rates allow the operator the flexibility to choose the correct rate for a given material to optimize production rate, repeatability and accuracy of cut length. Programming of the WC302 is simple. A batching feature allows all variables for frequently run jobs to be pre-programmed. Up to 99 batches may be programmed.
Specifications
| | |
| --- | --- |
| Maximum Cut Length | 99 999" (or 99 999cm) |
| Minimum Cut Length | 0.050" (.127cm) |
| Maximum Material Size | Tubing: 0.250" OD (1/4") (ø0.63cm) Wire: 12 AWG (.233cm) (stranded) or 14AWG (.162cm) solid |
| Batching | Up to 99 programmable batches |
| Tolerance | At cut lengths under 2" on most materials the tolerance is ±0.01" (.025cm). All other cut length tolerances are 1% or better dependent on material and feed. |
| Power | 120V 60HZ |
| Size | 9"x8"x9" (22.86cm x 20.32cm x 22.86cm) |
Operating/Safety Manual
Technical Information Center Articles
Optional Parts
Replacement Parts
E.C.P. (Eraser Certification Program)
We recommend using E.C.P. to determine which Eraser machine is best for your specific application. Click here to download a printable E.C.P. form. For more information about E.C.P. from Eraser, click here.
Updating...