M700F Modular Series Feeder Unit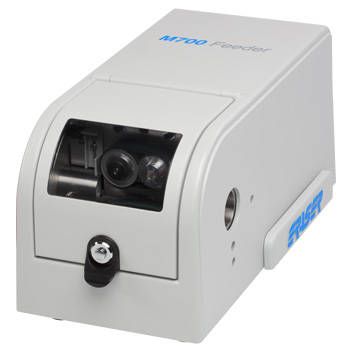 Model
M700F

Part Number
AR3400
Description / Details
The M700F (Feeder) Module feeds material to precise lengths for cutting with other modules or can be used alone to feed compatible systems.
The M700F Module features ten variable feed rates that allow the operator the flexibility to choose the correct rate for a given material to optimize production rate, repeatability and accuracy of the cut length. The M700F utilizes an adjustable, self-centering, dual stepper-driven belt feed.
The M700F is designed to work with the other M700 Series Modules.
The M700TW Tube and Wire Cutter Module uses a pneumatic guillotine style cutter head to cut copper wire gauges up to 10 AWG stranded or 12 AWG solid and cut tubing up to 3/8" (9.5mm) OD.
The M700ST Small Tube Cutter Module utilizes Eraser's rotary style cutter head that can cut many grades of tubing up to 1/2" (12.7mm) OD.
The M700LT Large Tube Cutter Module is a larger version of the rotary style cutter head that can cut tubing from 1/2" to 1-1/8" (12.7mm to 28.6mm) OD.
The M700HW Hard Wire Cutter Module utilizes a pneumatic-powered, dual-blade, semi-rotary style cutter which can cut various sizes of hard alloy wire.
Series Information
The M700 Modular Series from Eraser is a brand new, scalable concept in wire and tube processing. Unlike traditional methods that require separate systems for cutting different materials and gauges, the Modular Series offers the flexibility to quickly and easily switch between a variety of cutting modules based on your changing needs. The brain of the series is the
M700C Control Module
, which powers the operations of the feeder and cutting components. Using auto-sensing technology, it readily recognizes which modules you have connected. You can use the control module in either a manual configuration or with Eraser's proprietary software, which automates job management features for up to a hundred programmable jobs. With the module's easy-to-read keyboard and digital display, setting your preferred batching, feed rates and cut rates is simple. Pair the control module with the M700F Feeder Module to handle large processing jobs with ease. Simply connect the two with your choice of cutting module, to automate jobs with precise, repeatable cut lengths.
Featuring 10 variable feed rates, the module allows you to dial in the perfect speed based on the material being cut and the accuracy required. The Feeder Module can also be used independently or with a compatible system of your own. And no job is too small, for those projects that don't require automation or a feeder, an optional foot pedal and length stop can be paired directly with each of the available cutting modules. When it comes to cutting power, the
M700TW Tube and Wire Module
offers the flexibility to process a range of materials. With a pneumatic powered guillotine-style cutter, it ensures precise and consistent cuts for tubing and sleeving up to three eighths inch outer diameter, or copper wire up to 10 AWG stranded and 12 AWG solid. The
M700ST Small Tube Module
, on the other hand, features a rotary style cutting head that is perfect for processing flexible tubing to exact specifications. The
M700 Hard Wire Module
utilizes a pneumatic-powered, dual-blade, semi-rotary style cutter which can cut various sizes of hard alloy wire such as Nitinol wire or Niti wire, fine carbon steel wire, Titanium wire, and Stainless Steel wire or cable.
Use it to cut tubing up to one half inch outer diameter, including materials like flexible polyurethane, flexible PVC, rubber hose, nylon reinforced rubber hose, and more. The
M700LT Large Tube Module
also has a rotary-style cutting head for processing a variety of materials. Every bit as accurate as its small tube counterpart, it can cut tubing ranging from one half inch, to one and one eighths inch outer diameter. Featuring big versatility in a compact, tabletop design, the M700 Modular Series is made to grow with your tubing and wire processing needs. Swapping out modules takes just seconds, so no matter what you need for the job at hand, you can get right to work. To learn more, contact an Eraser representative at 1-315-454-3237.
Specifications
Programming of the unit is simple. A Job feature allows all variables for frequently run jobs to be pre-programmed. Up to 100 jobs may be programmed. A batching feature allows for multiple pieces of different lengths to be cut within a job. Up to 20 batches per job can be programmed. Easily programmed through the controller or with PC software.
Max Programmable Quantity
99,999 pieces
Max Material Size
1-1/8" (28.6 mm) OD
M700F Length Tolerances* (repeatability)
Under 2" (5.08cm): ± 0.010" (± 0.025cm)
Over 2" (5.08cm): ± 1%
Squareness of Cut: ± 2°
Jobs
Up to 100 programmable jobs
Batches
1 to 20 Batches per Job
Module Size
16"L x 7.25"W x 8"H
(406.4mm x 184.2mm x 203.2mm)
Weight
21.25 lbs. (9.7 kg)
Bushing
Material ample is required to size bushing.
This module must be used with the M700C Controller
* Specification is material dependent and/or dependent on de-reeling system
Linear Speed M700F | Feeder
Feed Rate #
inches/sec.
cm/sec.
0
4.3
11
1
8.7
22.1
2
13
33.1
3
17.4
44.2
4
21.7
55.2
5
26.1
66.3
6
30.4
77.3
7
34.8
88.3
8
39.1
99.4
9
41.3
104.9
Required Parts
Optional Parts
Replacement Parts
E.C.P. (Eraser Certification Program)
We recommend using E.C.P. to determine which Eraser machine is best for your specific application. Click here to download a printable E.C.P. form. For more information about E.C.P. from Eraser, click here.
Updating...