MMC71 Multi-Material Cutter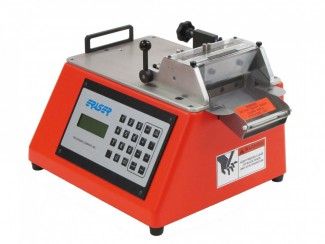 Model
MMC71

Part Number
AR0071
Description / Details
Model MMC71 Multi-Material Cutter is capable of cutting a wide range of materials, including flat material up to 3.3" inches wide, tubing up to 3/16" OD, and wire up to 14 AWG stranded or 16 AWG solid.  The MMC71 works great on flat material such as heat shrink tubing, tapes, foils, ribbon cable and more, and is even capable of cutting silicone tubing.  The machine is easily programmable, offering ten fixed feed rates, ten fixed cut rates, and storage for up to 99 batches and 10 kits (depending on available memory).  Material guides are easily adjustable for each application.  Additional guide kits are available to allow multiple pieces of the same material to be cut at the same time, increasing operator efficiency and production rate.  The unit is fully electric and does not require an air supply.
Specifications
| | |
| --- | --- |
| Maximum Cut Length | 99,999" (99,999 cm) |
| Minimum Cut Length | 0.100" (.25cm) |
| Maximum Material Size | Material up to 3/16" OD (4.76mm), flat material up to 3.3" (84mm) wide and wire up to 14 AWG (1.63mm) stranded, 16 AWG (1.29mm) solid |
| Tolerance | +/- 0.005" (0.13 mm) to 5% of total length; dependent on material and dereeling system |
| Batching | Up to 99 programmable batches |
| Kits | Up to 10 kits (depending available memory) |
| Power | 120V 60Hz |
Operating/Safety Manual
MMC71 Multi-Material Cutter
MMC71 Blade Replacement and Adjustment
Technical Information Center Articles
Optional Parts
Replacement Parts
E.C.P. (Eraser Certification Program)
We recommend using E.C.P. to determine which Eraser machine is best for your specific application. Click here to download a printable E.C.P. form. For more information about E.C.P. from Eraser, click here.
Updating...