LSA20 Cable Stripper
Model
LSA20

Part Number
AR6800
Description / Details
The LS series wire and cable strippers are precision wire and cable strippers. Blades are available to cover most applications and all are manufactured to exacting standards to provide a clean strip. Custom stripping blades can be manufactured for specific applications. Blades are quickly changed or adjusted. An adjustable strip length stop ensures consistent strip lengths. The LSA20 is an air-operated versions of the LS series wire and cable strippers. Model LSA20 incorporates standard serrated cable clamps. Select stripping blades as required.
Specifications
| | |
| --- | --- |
| Dimension | Maximum |
| A | 1.120" (28.45mmø) |
| *B | 3.4" (86.4mm) |
| C | 1.25" (31.8mmø) |
*Strip length maximum is for one cycle of the machine. Dependent on cable type and size- strip length may be increased by cycling the machine more than once.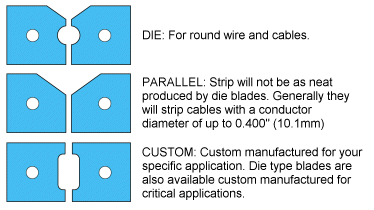 |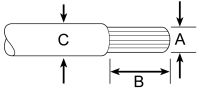 Specifications
| | |
| --- | --- |
| Clamp Type | Serrated cable clamps |
| Operation | Air operated |
| Size | 24" x 7" x 7-1/2" (610mm x 178mm x 191mm) |
| Weight | 30lbs. (13.6Kg) |
Operating/Safety Manual
LSA20 Series Air-Cable Stripper
Technical Information Center Articles
Required Parts
Optional Parts
Replacement Parts
E.C.P. (Eraser Certification Program)
We recommend using E.C.P. to determine which Eraser machine is best for your specific application. Click here to download a printable E.C.P. form. For more information about E.C.P. from Eraser, click here.
Updating...