C200 Wire Stripper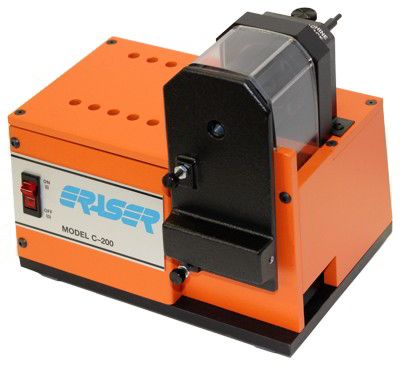 Model
C200

Part Number
AR4901
Description / Details
Designed for production, Eraser's Model C200 Twin Blade Rotary Wire Stripper and Twister can process insulations such as Teflon, P.T.F.E., PVC, nylon, rubber, KEL-F and more from solid and stranded wires. The stripping head incorporates a pair of accurately adjustable tungsten carbide stripping blades. The blades are easily adjusted and remain on center. By reversing the belt, the unit may be operated with either clockwise or counterclockwise rotation. The slug may be left on the wire and removed later when terminated. Wire guides are not included and must be purchased separately.
Specifications
| | |
| --- | --- |
| Maximum wire diameter over insulation | 0.265" (6.73mmø) |
| Minimum diameter over insulation | 0.028" (0.071mmø) depending on rigidity of wire |
| Maximum conductor diameter | 0.219" (5.5mmø) |
| Maximum strip length (with strip stop) | 2 1/2" (63.5mm) |
| Maximum strip length (without strip stop) | Depends on construction of wire or cable |
| Minimum strip length | 1/32" (0.79mm) depending on insulation thickness |
| Number of heads | Single |
| Power | 120V 60 Hz |
Operating/Safety Manual
C200 & C300 Rotary Head Wire Strippers And Twisters
Technical Information Center Articles
Required Parts
Optional Parts
Replacement Parts
E.C.P. (Eraser Certification Program)
We recommend using E.C.P. to determine which Eraser machine is best for your specific application. Click here to download a printable E.C.P. form. For more information about E.C.P. from Eraser, click here.
Updating...