RTC1 Rigid Tube Cutter 230V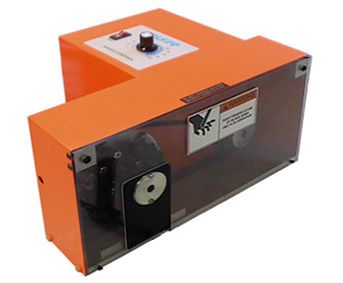 Model
RTC1

Part Number
AR1412
Description / Details
Model RTC1 Manual Feed Rigid Tubing Cutter is capable of processing copper, aluminum and mild steel. Model RTC1 has an unlimited cut length, is easy to use and offers production flexibility. This is the perfect tool for rigid tube cutting!
Specifications
| | |
| --- | --- |
| Maximum Material Size | 7/16" O.D. (11.1mmø) |
| Minimum Material Size | 1/8"ID (3.18mmø) |
| Maximum Cut Length | Unlimited |
| Minimum Cut Length | 2.00" (50.8mm) |
| Blades | Double Beveled Tool Steel |
| Power | 230V 50Hz |
| Size | 14.5"W x 11.5"D x 7.5"H (368mm x 292mm x 190mm) |
Operating/Safety Manual
Technical Information Center Articles
Required Parts
Replacement Parts
E.C.P. (Eraser Certification Program)
We recommend using E.C.P. to determine which Eraser machine is best for your specific application. Click here to download a printable E.C.P. form. For more information about E.C.P. from Eraser, click here.
Updating...