CS800 Wire Cut & Strip 120V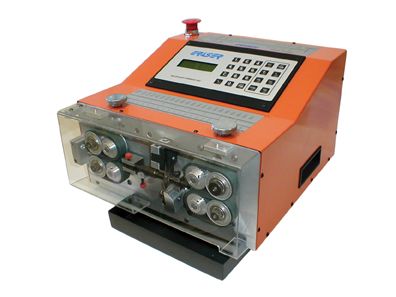 Eraser's Model CS800 Wire Cut & Strip is a fully programmable, fully electric bench top wire cutter and stripper. The unit can process wire from 10AWG – 30AWG and can quickly and precisely cut and partial strip 6,150 pieces per hour at 2.5" lengths (63.5 mmø), and 5,700 pieces per hour at 4'' lengths (101.6 mmø). With programmable batching and ten variable feed rates, the CS800 is the perfect production tool for complete automation.
E.C.P. (Eraser Certification Program)
We recommend using E.C.P. to determine which Eraser machine is best for your specific application. Click
here
to download a printable E.C.P. form. For more information about E.C.P. from Eraser, click
here
.
Model Number:
CS800
Part Number:
AR7201
| | |
| --- | --- |
| Maximum cut length | 65 530 inches {99 999cm} |
| Maximum material size | 30awg to 10awg {0.03cm to 0.3cm} - wire dependent |
| Max Feed Rate | Up to 60" per second - wire dependent |
| Tolerance | Up to 1% - wire dependent |
| Batches | 67 |
| Max Strip Length | Up to 4.0 inches {10.2cm} - wire dependent |
| Power | 120V |
Operating/Safety Manual:
CS800 Cutter & Stripper
Technical Information Center Articles:

Required Parts: