RT2S Magnet Wire Stripper
RT2S Cone Wheels:
| | | | |
| --- | --- | --- | --- |
| Wheel | Gage | Grade | Type |
| AE0279 | 28 – 30 | 201 | Coarse |
| AE0280 | 30 – 36 | 553 | General |
| AE0281 | 35 – 48 | 640 | Fine |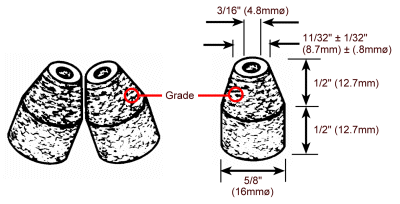 Tips and Facts:
The RT2S uses the Fybrglass® wheels in counter rotation to cause friction which heats up the insulation while the nap fibers brush the insulation away.
Coarse grades are used for the larger sized wire and finer grades are used for smaller sized wire.
The finer grade wheels are a denser Fybrglass® construction.
The finer grade wheels are also better for the heat resistant and tougher insulations which require more heat.
Eraser brand cone wheels will fit on similar competitor machines.
The conical shape of the wheels allows you to strip closer to the work piece.
Wheels are sold as a pair but they are made individually so they need to be dressed when new.
Wheels should be dressed whenever performance deteriorates.  Regular dressing will increase wheel life and production.
Dressing the wheels will also help prevent smaller size wire from breaking while stripping
For the R Series the FybRglass® Wheels are sold in pairs, but the wire wheels are sold individually.
Wheels may be used to within 1/8″ (3.2mm) of their arbor hole.