MMC200 Multi-Material Cutter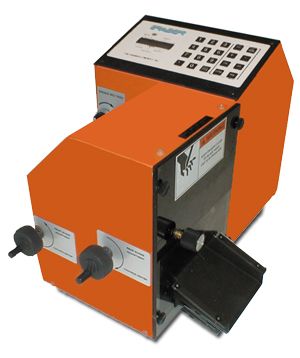 Model
MMC200

Part Number
AR7161
Description / Details
Model MMC200 Multi-Material Cutter offers users the widest range of industrial cutting applications available today. The unit can process flat material up to 3.94" wide, round material up to 5/8" thick, and wire up to 10 AWG solid copper.  Offering a maximum cutting force of 600 pounds, the MMC200 can cut a diverse range of materials, including copper wire and cable, flat and ribbon cable, heat shrink tubing, hosing, belting, sleeving, fabrics and many more.  The MMC200 is even capable of cutting non-uniform materials such as molding.  Depending on the material, the unit is capable of cutting multiple pieces of the same material in one cut, increasing operator efficiency by allowing higher production runs in less time than other cutters.  This microprocessor-controlled cutter can be easily programmed for up to 99 batches and 10 fixed feed rates.
Specifications
| | |
| --- | --- |
| Maximum Cut Length | 99,999" (99,999 cm) |
| Minimum Cut Length | 0.100" (2.5mm) |
| Maximum Material Size | Material up to 5/8" OD (15.8mm) flat material up to 3.94" (100mm) wide and wire up to 10 AWG (2.58mm) |
| Tolerance | 1% or better reliant on material and feed |
| Batching | Up to 99 programmable batches |
| Power | 120V 60Hz |
| Compressed Air | 40 to 90 PSI |
Operating/Safety Manual
Technical Information Center Articles
Optional Parts
Replacement Parts
E.C.P. (Eraser Certification Program)
We recommend using E.C.P. to determine which Eraser machine is best for your specific application. Click here to download a printable E.C.P. form. For more information about E.C.P. from Eraser, click here.
Updating...