PL3S Portable Wire Stripper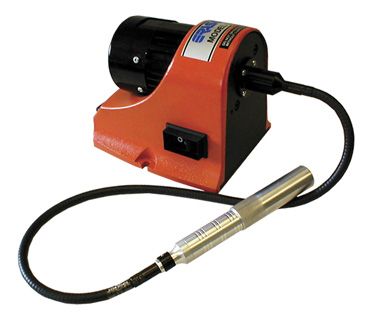 Model
PL3S

Part Number
AR2061
Description / Details
The PL3S wire stripper will remove most film insulations including enamel, Formvar, ML, armored poly-thermaleze, epoxy, etc. from round wires. The PL3S can also be used for other applications such as deflashing wires, cleaning legs of electronic components, cleaning pins on transformers and coils, etc. A high-speed rotating insert strips insulation from the surface of the wire. Close-up stripping flush to a coil body or bobbin is possible. The unit has a 3 foot flexible shaft for maneuverability around the workpiece.
Series Information
The L Series from The Eraser Company includes a wide range of bench and hand held wire strippers.
These strippers use a high-speed rotating insert to strip insulation from the surface of round magnet and enamel wire and are ideal for stripping electronic components such as bobbins, coils, and toroids.
The L2S is a bench model for high production, and can strip wire from 29-8 gauge, while the L2AS allows for stripping larger wire from 8-4 gauge.
The L4 and L4A are hand held, air operated versions of the L2S and L2AS, respectively.
The PL3S features a 3 foot flexible shaft for portability and can strip wire from 29-14 gauge.
Also able to strip 29-14 gauge wire, the L1 (220v ver) is a basic bench model for light duty and low production.
Models L2S, L2AS, and PL3S feature reversible motors, which doubles the tool life on the stripping inserts.
Inserts are available in three different styles depending on application. Flat face inserts allow for stripping flush to the work piece, concave face inserts permit easy wire entry, and bullet nose inserts are used for stripping in confined areas. Inserts are made from tool steel, and most styles are also available in carbide.
Specifications
| | |
| --- | --- |
| Wire Size | 29-14 AWG (0.28-1.63mmø) |
| Maximum Strip Length | 1 3/8"" (34.9mm) no strip length stop available |
| Power | 115V 60Hz |
| Size | 11" x 6" x 7-1/4" (114mm x 203mm x 178mm) |
| Weight | 11lbs. (5Kg) |
Operating/Safety Manual
Technical Information Center Articles
Required Parts
Replacement Parts
E.C.P. (Eraser Certification Program)
We recommend using E.C.P. to determine which Eraser machine is best for your specific application. Click here to download a printable E.C.P. form. For more information about E.C.P. from Eraser, click here.
Updating...