HTS1C Thermal Wire Stripper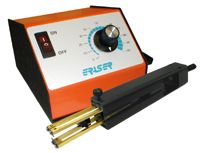 Model
HTS1C

Part Number
AR0131
Description / Details
Lightweight hand held thermal wire strippers for stripping solid and stranded wires. The HTS Series is especially effective on insulation such as P.T.F.E. and Teflon. The temperature at the stripping elements is variable up to 1100°F (594°C). The HTS1C has a cradle switch. When the tool is placed in the cradle, heat to the elements is disconnected. The hand piece is only 7-1/8" (181mm) long. A fiberglass brush is provided with each unit to clean the elements periodically.
Specifications
| | |
| --- | --- |
| Wire Size | 5/16" to 43 AWG (7.9-0.056mmø). See descriptions for individual element styles. |
| Strip Length | up to 1.50" (38.1mm) with stop |
| Element | IR5023 Un-notched elements |
| Power | 120V 50/60Hz |
| Handpiece Size | 7-1/8" 1" x 1" (181mm x 25.4mm x 25.4mm) |
| Handpiece Weight | 4oz. (113g) |
Operating/Safety Manual
Technical Information Center Articles
Optional Parts
Replacement Parts
E.C.P. (Eraser Certification Program)
We recommend using E.C.P. to determine which Eraser machine is best for your specific application. Click here to download a printable E.C.P. form. For more information about E.C.P. from Eraser, click here.
Updating...