BTS1 Thermal Wire Stripper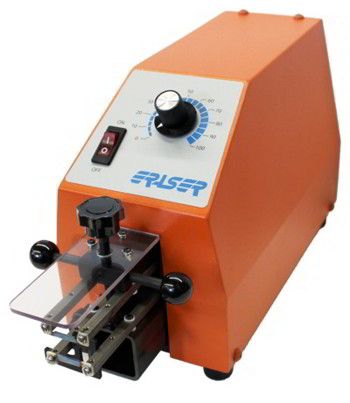 Model
BTS1

Part Number
AR0111
Description / Details
Eraser's Model BTS1 Thermal Wire Stripper is a bench mounted thermal stripper for solid and stranded wire and cables up to 1/2" OD (12.7mmø). The temperature of the stripping elements is variable up to 1400°F (760°C). The unit has an adjustable strip length stop from 0 to 1-1/2" (38mm) and has a self-contained fume extraction system. The optional 90° element kit is available to provide infinite strip length or window stripping.
Specifications
Wire Size
Maximum 1/2" OD (12.7mmø)
Minimum 36AWG (.13mmø)
Strip Length
Up to 1-1/2" (38mm) or unlimited with optional 90° element adaptors
Power
120V 50/60Hz
Operating/Safety Manual
Technical Information Center Articles
Optional Parts
Replacement Parts
E.C.P. (Eraser Certification Program)
We recommend using E.C.P. to determine which Eraser machine is best for your specific application. Click here to download a printable E.C.P. form. For more information about E.C.P. from Eraser, click here.
Updating...