Encapsulated 2″ Urethane Wire Brush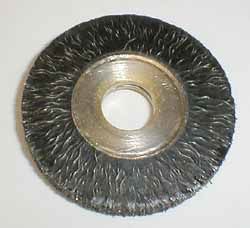 Description / Details
The .0118 Very Coarse Encapsulated Urethane Stripping Wheel is sold singularly and 16 are required for use in the E200. Encapsulated brushes use an elastomer which firmly supports the individual wire tips, producing stronger brushing action and longer life. In use, the elastomer wears back gradually, presenting a shorter wire tip for maximum cut. These wheels can be used singly or mounted in multiples to create a wider brushing face. We make stripping wheels to fit all competitive machines as well as for all Eraser Models. We can also manufacture custom size wheels. There are many factors that determine the proper grade of wheel for a specific wire stripping application. These include wire size, type of insulation, strip length, and number of wires stripped at one time. For this reason, we suggest you give us a call, to determine the proper grade for your application.
Specifications
| | |
| --- | --- |
| For Use On | Heavy Insulations on large and rectangular sections |
| Wire Brush Fill Size (WS) | 0.0118" (.30mm) Encapsulated in an Elastomer |
| Outside Diameter (OD) | 2" (51mm) |
| Width (W) | 1/4" (6mm) |
| Arbor Hole (AH) | 1/2" (12.7mm) |
| Compatible Models | E200 |
Updating...