M700TW Modular Series Tube and Wire Cutter Unit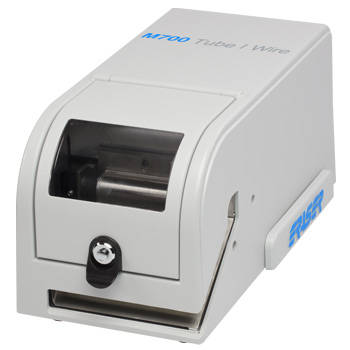 Model
M700TW

Part Number
AR3500
Description / Details
The M700TW (Tube and Wire) Cutter Module uses a guillotine style cutter head to cut copper wire gauges up to 10 AWG stranded or 12 AWG solid and cut tubing up to 3/8" (9.5mm) OD.
The M700TW Module easily and accurately cuts wire, tubing and sleeving to the programmed length and number of pieces when used with the optional M700F Feeder module. Ten variable feed rates allow the operator the flexibility to choose the correct rate for a given material to optimize production rate, repeatability and accuracy of the cut length. The M700TW utilizes a guillotine style cutter head. This unit can also be used in a manual cutting configuration.
Specifications
Programming of the unit is simple. A Job feature allows all variables for frequently run jobs to be pre-programmed. Up to 100 jobs may be programmed. A batching feature allows for multiple pieces of different lengths to be cut within a job. Up to 20 batches per job can be programmed. Easily programmed through the controller or with PC software.
Tubing Size
Up to 3/8" (9.5mm) OD
Max Copper Wire Size
Stranded Conductor: 10AWG (2.59mm)
Solid Conductor: 12AWG (2.06mm)
Max Cut Length
99,999" (99,999cm)
Min Cut Length
0.100" (0.254cm)
M700F Length Tolerances* (repeatability)
Under 2" (5.08cm): ± 0.010" (± 0.025cm)
Over 2" (5.08cm): ± 1%
Squareness of Cut: ± 2°
Air Supply Required
90 PSI (6.2 bar)
Jobs
Up to 100 programmable jobs
Batches
1 to 20 Batches per Job
Module Size
16"L x 7.25"W x 8"H
(406.4mm x 184.2mm x 203.2mm)
Weight
17.5 lbs. (8.0 kg)
Bushings
Material sample is required to size bushing.
This module must be used with the M700C Controller
* Specification is material dependent and/or dependent on de-reeling system
Specifications
Linear Speed M700F | Feeder
Feed Rate #
inches/sec.
cm/sec.
0
4.3
11
1
8.7
22.1
2
13
33.1
3
17.4
44.2
4
21.7
55.2
5
26.1
66.3
6
30.4
77.3
7
34.8
88.3
8
39.1
99.4
9
41.3
104.9
Required Parts
Optional Parts
Replacement Parts
E.C.P. (Eraser Certification Program)
We recommend using E.C.P. to determine which Eraser machine is best for your specific application. Click here to download a printable E.C.P. form. For more information about E.C.P. from Eraser, click here.
Updating...