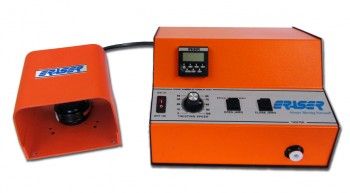 Eraser's new WT200 Automatic Bench Wire Twister can twist two or more wires up to 20 feet in length.  This durable twister is made for high production to achieve a repeatable number of twists per inch on a bundle of wire up to the equivalent of two 16awg insulated wires.  The WT200 has a reversible motor which enables it to twist or untwist in either direction with a variable speed control that can be adjusted to perform from 0 to 26 turns per second while the internal clamping mechanism gently and securely holds your wire.
Twist Length: Up to 20 feet
Twist Speed: Variable from 0 to 26 turns per second
Wire Size: Maxiumum bundle should not exceed equivalent of two 16 AWG insulated wires
Twist Direction: Twist or untwist in either direction
Visit WT200 operating manual and other twisting machines.