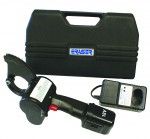 Eraser's model CCB100Portable Cable Cutter is designed for a wide range of cutting applications. This powerful and versatile cutter is ideal for field use in the electric power and communications industries.
Powered by a rechargeable Ni-Cad battery, the CCB100 can cut cables up to 1,000 kcmil soft drawn copper, 750 kcmil hard drawn copper, and aluminum cables up to 2″ OD.The unit uses a hook head design with a hardened blade that can be disengaged for midline cutting. The unit also features a three-way reversing switch that allows fully controlled cutting.
This heavy-duty cutter can cut cables in confined areas – such as those often encountered in cable laying operations – and is also suitable for overhead cutting on aerial installations. The tool is packaged in a plastic carrying case for portability and is ruggedly built for field use.
See the CCB100 in action:  YouTube! Visit Eraser to see the CCB100 operating manual and other portable cable cutting tools.