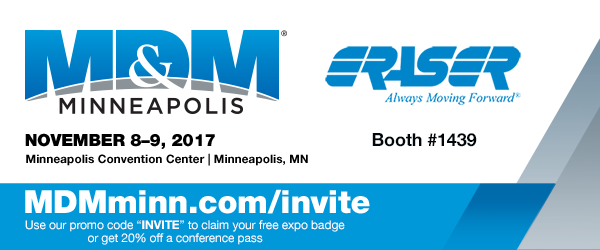 Join The Eraser Company, Inc. at the MD&M Convention Center, November 8 & 9, 2017 in Minneapolis, Minnesota.
Use our promo code INVITE to claim a free expo badge, or get 20% off your conference pass, at www.MDMminn.com/invite.
We will be located at Booth #1439
Bring a sample of your material to the MD&M Convention Center to test on these Eraser machines:
M700F Modular Series Feeder Unit AR3400
M700TW Modular Series Tube and Wire Cutter Unit AR3500
M700ST Modular Series Small Tube Cutter Unit AR3600
M700LT Modular Series Large Tube Cutter Unit AR3700
Single Element Bench Glo-Ring Heat Tool AH2401
Plus, receive a coupon for 10% off your next purchase when you stop by our booth.
See you at the convention!